It's amazing what sorts of things you can capture on a doorbell camera! Everything from stray animals to package thieves and all kinds of stuff in between.
A family in South Carolina captured something unfortunate – but they used it to create a moment of positive change for a total stranger.
A few weeks ago the Keighron family was waiting for their Domino's delivery when they heard a commotion on the front steps. Unfortunately their delivery driver, Barbara, who is 72 years old – was walking up to their door with an arm load of pizzas in one hand and a plastic bag of sodas and sides on the other when she tripped and fell while she was stepping up onto their porch. Pizzas went flying and in the doorbell video you can see her struggling to get to her feet. Kevin, the dad in the family, went out to help her.
After getting her stable and safe, they picked up the pizzas and Barbara apologized profusely for dropping them. The family didn't mind that their dinner had been dropped, they just wanted to make sure Barbara was okay.
Kevin and his wife Lacey shared the video of the fall online to bring attention to Barbara's story and because they wanted to collect a tip to share with her, since it seemed like she was having a tough time.
They worked together with Barbara's manager at Domino's and found out that Barbara had been a single mother for a long time and worked hard her whole life to make ends meet – which is why she'd never been able to fully retire.
The Keighron family started a GoFundMe for their new friend and it has now raised over $260,000! Barbara is thrilled … and yesterday, because of the kindness of strangers, she worked her last day. Barbara is now FULLY retired … and hopes to soon take a cruise to celebrate!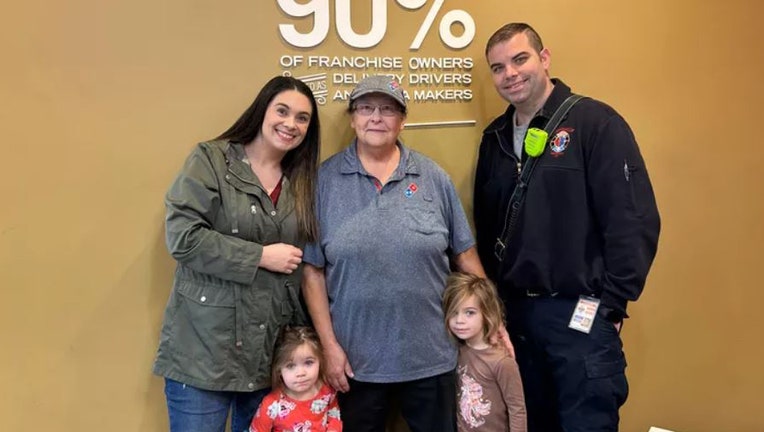 This is the video that started it all!